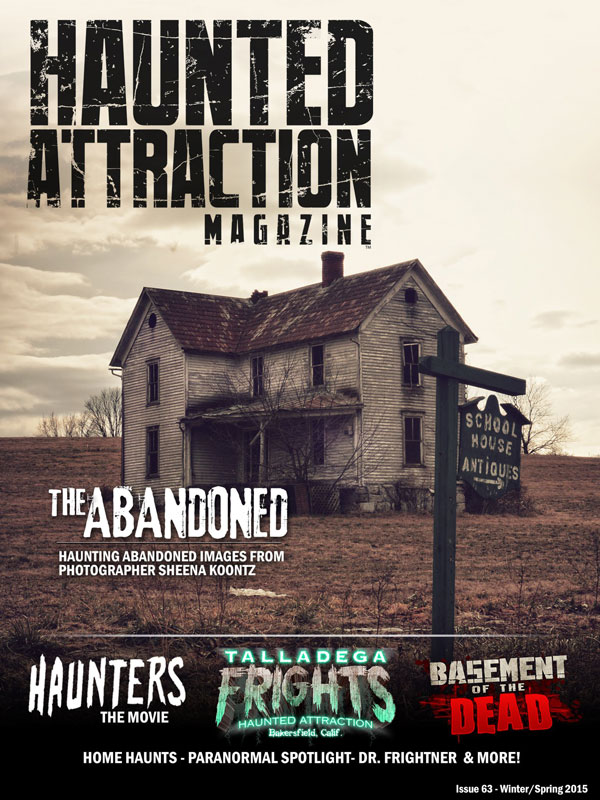 Issue 63 Winter/Spring 2015
Issue 63 is Jam-Packed with haunting goodness!  Check out the haunting abandoned photography of Sheena Koontz! We talk to the creator of the Kickstarter funded Haunters: The Movie, A documentary about haunters both pro and home and why they love scaring people!  We say farewell to Universal's House of Horrors. Check in with Basement of the Dead, Massacre Haunted House, Talladega Frights and Thornhill Woods Haunted House, a Canadian Charity Home Haunt that can give pro haunts a run for their money!
We also are beginning a new Paranormal Spotlight feature with The Beast of Bray Road and of course we check in with Dr. Frightner!
Issue 63 is overflowing with Haunted Attractions and Horror Culture! Check it out!
Buy a 1 Year subscription (4 Issues) and get Haunted Attraction Magazine ALL YEAR!
If you're not already a subscriber then click here to order and get immediate access to the new issue!
Abandoned Photographer Sheena Koontz
Interview with Jon Schnitzer about his Documentary "Haunters: The Movie"
Paranormal Spotlight
Special Feature on Home Haunt Thornhill Woods Haunted House
Talladega Frights, Basement of the Dead, Massacre Haunted House and More!
Dr. Frightner's World
This  issue is now available to all  Subscribers or you can purchase the issue directly Here
Issue 63
can be accessed at:
For Apple Users at The Apple Newstand
For Android Users at Google Play
And directly on your PC or Mac Here